I was so excited when Acadiana's Thrifty Mom was contacted by Lilla Rose to do a review/giveaway of their products.
Here's a little background on why I was so excited: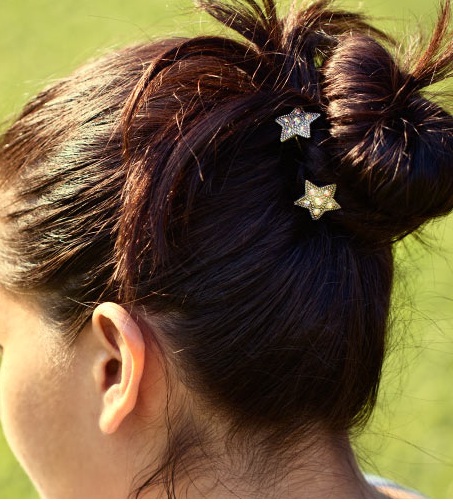 The company ~
The Lilla Rose product line centers around unique, functional, and well made hair jewelry. From our flagship Flexi Hair Clip, we have expanded to Hair Sticks, Orings, Hairbands, and Bobby Pins. From there we rounded the line out with complimentarily designed You-Pins, Badge Holders, Necklaces, and Earrings.
My Review ~
Well, let me start by saying that my girls and I go through hundreds of hair ties, bands, bows, flowers, pins, scrunchies, you name it! If there ever was a hair restraint expert; I am it LOL. I was ecstatic to get an email asking me to review these products. Yes, I have done reviews for much larger products, but it's the little things that get me excited
My thirteen year old has the longest, thickest hair in our house, so I decided to use her hair for the purposes of this review. I have used hair sticks in the past and LOVE them, so we started with the hair sticks. One thing I love about hair sticks is that they are super easy to use and even easier to remove! The one complaint I've had about the hair sticks I've used in the past is that they were too long. THIS is where Lilla Rose wins HANDS DOWN! Not only were these hair sticks beautifully detailed, but they were just the PERFECT length! I think the thing I love the most is that I was able to put my daughter's hair in a beautiful, neat bun without even brushing it!
BEFORE (without brushing)
AFTER (without brushing)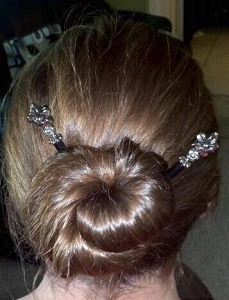 Right now you can go
HERE
to buy 3 and get 1 FREE with Lilla Rose! Hurry this offer is only good during the giveway! You can also enter the Rafflecopter below to win your own Lilla Rose products for FREE!